On a recent trip to the Republic of South Africa I snapped the photograph below in a restaurant at O.R. Tambo International Airport in Johannesburg, South Africa's main gateway to the rest of Africa and the world.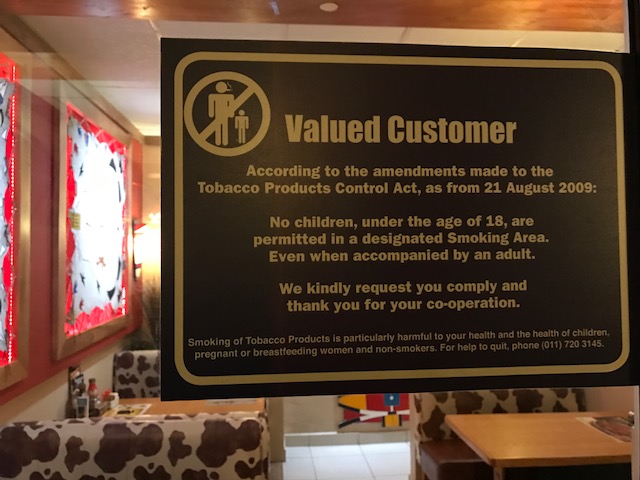 Why not in Japan?
That trip produced another article that you may want to take a look at before your next trip: Traveling with Kids? Better Get the Right Personal Legal Documents with Certified English Japanese Translation! 
So, what's so special about this photograph?
Nothing, unless you happen to live in Japan! It is only recently that there has been a move to implement smoking areas in public spaces, such as restaurants, etc. And, even these are in the form of restrictions as opposed to legal statutes.
Unlike in Europe and North America, where mandatory smoking bans apply in restaurants, bars, and public areas, smoking in Japan is not made illegal by Article 25 of the nation's Health Promotion Act, which merely urges smoking restrictions. Limited indoor bans have been enacted in Kanagawa and Hyogo Prefectures, but not nationally. Other restrictions may be implemented by the choice of public and private property owners, managers, employers, etc.

Read more about this on Wikipedia
The lack of legal statutes in this regard makes for especially bizarre scenes. For example, people having to walk though clouds of cigarette smoke to get inside a convenience store, since the smoking section is located right at the entrance of the store. 
Another particularly disturbing scene is children being permitted to enter designated smoking areas. Now, I'm sure there are those that would argue that the parents smoke at home, which is tantamount to a designated smoking area. This is true; however, the concentration of cigarette smoke in a designated smoking area (with 25~50 people smoking at the same time) is not the same as at home, is much higher and therefore much more harmful. In addition, simply by restricting children from entering smoking areas, you will be forcing parents to start being more responsible with respect to their children's' health, which will itself alter undesirable smoking behavior in the home.
This brings us back to that photograph.
It's kind of strange that a developing country like South Africa has implemented such progressive laws, while a first world country like Japan is, well, still dithering around. Don't all children deserve an unconditional commitment by society to their health? Hopefully, with the 2020 Tokyo Olympics on the horizon, the Japanese government will be more proactive and step up to the plate on this one…


About the Author
Ivan Vandermerwe is the CEO of SAECULII YK, the owner of Japanese Translation Services Visit SAECULII for the latest professional case studies, articles and news on Japanese Translation Services
Copyright (C) SAECULII YK. All rights reserved. Reproduction of this article is permitted with inclusion of the "About the Author" reference as is (including text links, japan-translators.saeculii.com/english/services/japanese-translation-services.cfm), and this copyright information. Articles may not be altered without written permission from SAECULII YK.