And, more importantly, do you need a certified translator for certified document translation?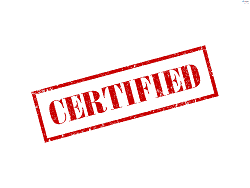 A certified translator is a translator that has been accredited in a specific translation field, such as medicine, by an accrediting institute. In the United States, for example, translator certification can be obtained from the American Translators Association (ATA), National Association of Judiciary Interpreters and Translators, and National Board of Certified Medical Interpreters (CMI).
In a nutshell:
A certified translator is one awarded a certificate in recognition of their having completed the requirements of an accrediting institute.
It is worth noting that, like many countries worldwide, the United States has no government sanctioned translation certification organization. Japan is another such country.
Do you need a certified translator for certified document translation?
There is no global standard for what constitutes Certified Translation. At the national level, countries have their own requirements; thus, by way of answering the question above, it depends on the country where you're submitting your application. Let's take a look at a few examples.
Japan does not have government sanctioned licensing or accreditation for certifying Japanese translators. Although several professional bodies, such as the Japan Association of Translators (JAT), offer membership to translators, similar to the United States, these are not official government sanctioned bodies. Indeed, in Japan, as in the United States and many other countries around the world, 
Licensing or accreditation is not a requirement to provide certified Japanese translation.
(A few countries, Spain being one, authorize certain translation professionals as official translators, and only documents prepared by these translators are considered official, or certified.)
Now for the organizational level.
Even in the same country different official and governmental organizations may have different requirements, too. In Australia, for example, the National Accreditation Authority for Translators and Interpreters Ltd (NAATI) states that its "accreditation is the only credential officially accepted by employers". However, organizations in Australia -both private and official- accept certified translation by Japanese translation companies without NAATI accreditation, as long as the translated documents include a Statement of Certification issued by the translating company.
If this all sounds confusing, then take heart in our oft repeated mantra:
Save yourself time, money and energy by getting your facts directly from the official authority (i.e. organizational level) that will be evaluating your documents.
In other words, before you contact a certified Japanese translator, arm yourself with the right information from the source!
Need certified translation Japanese English? Click here for Certified Japanese Translation FAQs


About the Author
Ivan Vandermerwe is the CEO of SAECULII YK, the owner of Certified Japanese Translator Visit SAECULII for the latest professional case studies, articles and news on Japanese Translation Services
Copyright (C) SAECULII YK. All rights reserved. Reproduction of this article is permitted with inclusion of the "About the Author" reference as is (including text links, japan-translators.saeculii.com/english/services/certified-japanese-translators.cfm), and this copyright information. Articles may not be altered without written permission from SAECULII YK.