Foreign exchange rate fluctuations offer attractive, hard to ignore discounts for your projects that put the services of high end, quality oriented Japanese translation agencies safely within your budget.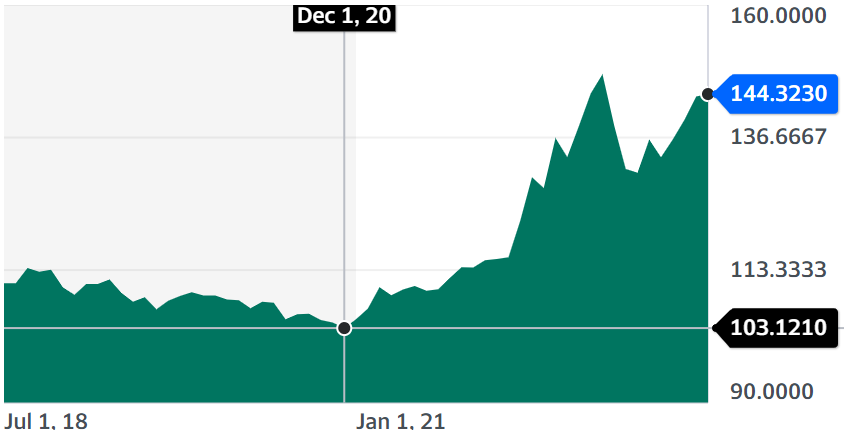 Currency Charts (USD/JPY)
Have you been locked out of the market for quality Japanese translation due to the high cost?
You may even have been forced to go with low quality "Silver", "Bronze" or "Economy" translation services. I'm sure you're smart enough to have realized the trade-offs made to get your products & services in front of Japanese target audiences. However, with a proliferation of slick marketing buzz words being bandied around as substitutes for quality translation - such as machine translation, translation crowdsourcing, translation clouds or some combination thereof (infamously known as 'posted edited translation') - it's pretty difficult to gauge the real extent of that hit on translation quality you're taking.
The currency chart above provides an indication of the discounts possible that make high quality Japanese translation affordable. The higher the yen value to the dollar (i.e. being an inverse currency, the weaker the yen to the dollar), the greater the discounts you reap. Think a 30% discount on Japanese translation projects is an exaggeration?
What is your baseline? Let's start by taking a look at the exchange rate 7 years ago. The average rate in August 2012 was JPY78.71 to the US dollar. That means, calculated at today's JPY108.80, the yen has lost 27.67% of its value relative to the dollar. For companies & individuals doing dollar-based business, that's nearly a 30% discount you get on professional translation.
Bonus -- No horse trading required!
At JPY97.83 to the US dollar in August 2013, the yen has lost 10.08% of its value to-date. Most folks have a need for translation every couple of years, which is tied to new product lines, marketing materials needing updating, or bi-annual conferences and trade-shows in Japan. However, even if you have Japanese translation requirements on a more regular basis, I'm sure you can see there are plenty of opportunities to realize large discounts through foreign exchange rate fluctuations.
Naturally, these discounts would be on top of the campaign discounts and regular discounts offered! Still feeling locked out of the market for world-class Japanese translation services…?
Conclusion
The trend in terms of direction the yen is taking is clear.
Unless there is an unforeseen event looming on the horizon that reverses this trend - which is highly unlikely given the cloud surrounding Abenomics, the looming 10% sales tax in October 2015, and the highest debt in the industrialized world - the yen could quite easily trade in the 111~113 range.
You don't need to agonize too much when contacting translation agencies in Japan for affordable, high quality Japanese translation services. And, you don't need to be concerned about the possibility of being locked into a service that may become progressively more expensive as time goes by.


About the Author
Ivan Vandermerwe is the CEO of SAECULII YK, the owner of Tokyo based Japanese Translation Agency Visit SAECULII for the latest professional articles and news on Japanese Translation Services
Copyright (C) SAECULII YK. All rights reserved. Reproduction of this article is permitted with inclusion of the "About the Author" reference as is (including text links, japan-translators.saeculii.com/), and this copyright information. Articles may not be altered without written permission from SAECULII YK.