Then you'll want machine translation (MT) -- Here's the link for a free online translation service, Babel Fish Online Translator
In case you're wondering just how good free translation is, take a look at the results of an experiment we ran on an article titled:
As Kindle Fire Faces Critics, Remedies Are Promised (Yahoo!, 2011-12-14)
First, we ran a sentence from the article through the application to get a Japanese translation.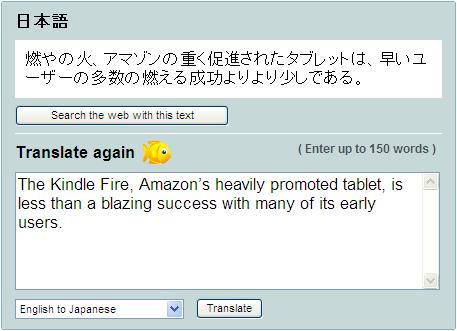 Looks pretty darn good, doesn't it? And, it's absolutely free to boot!
Of course, if you're Japanese, or fluent in Japanese as we are, you'd immediately contact a professional Japanese translation service. Let's continue the experiment to see why.
Next, the Japanese translation generated above is translated back into English. In other words, the translation is
Simply

reversed

so we can see the quality of translation that your Japanese target audiences would see.
If machine translation produces professional quality translation, we should get the original English text, or something pretty close, right?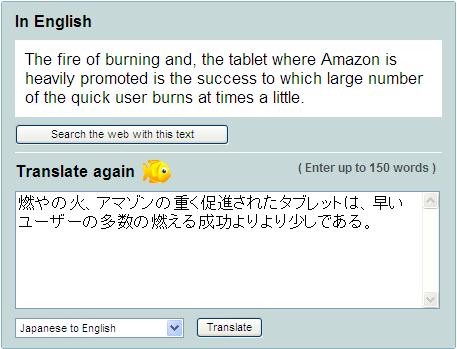 Instead, you get gibberish, as seen by your target audience.
Vendors, perhaps in recognition of its poor utility, promote their machine translation products as a "gisting" tool, to get the general idea of foreign language text. Let's call it what is folks
Gibberish, pure and simple!
Unfortunately many folks mistakenly believe free machine translation is a substitute for quality translation by qualified professional Japanese translators. However, they don't realize the real damage they're doing to their brand. Click here to see some real world examples


About the Author
Ivan Vandermerwe is the CEO of SAECULII YK, owner of Tokyo based Translation Services Japan Visit SAECULII for the latest professional case studies, articles and news on Japanese Translation Service
Copyright (C) SAECULII YK. All rights reserved. Reproduction of this article is permitted with inclusion of the "About the Author" reference as is (including text links, japan-translators.saeculii.com/english/services/japanese-translation-services.cfm), and this copyright information. Articles may not be altered without written permission from SAECULII YK.