Apostilled Translation is also known as Legalized Translation.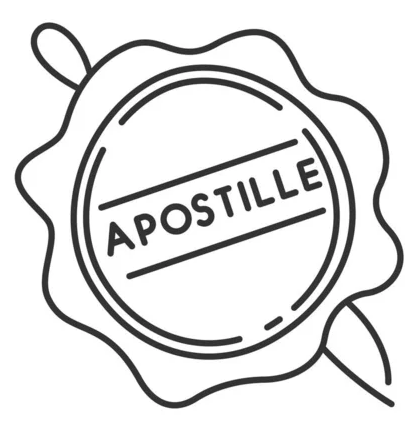 Apostille ("ah-po-steel") is French for certification.
We're big on clearing up confusion surrounding translation terms, to ensure that folks get the right type of translation for their needs right off the bat.
Legalized Translation (Apostilled Translation) is NOT TO BE CONFUSED with "legal translation". Definition of LEGAL Translation:
Legal Translation is the translation of

legal documents

, such as legal agreements, legislative texts and even articles related to legal subjects.
The focus of this article is LEGALIZED (APOSTILLED) Translation.
So, what is Apostilled Translation? It is:
A subset of Official Translation (new window)
An apostille (certificate) is attached to a

public document

to verify legitimacy and authenticity ensuring it will be accepted in countries signed up to the Hague Apostille Convention

Only public documents can be apostilled.
Private documents are made a matter of public record -PUBLIC DOCUMENT- through notarization.
The nuts 'n bolts of apostille is pretty lengthy – You can get all the details here Apostille Convention (new window)
The obvious follow-on question here is:
Who can issue an apostille (certificate)?
The answer to this question is a "competent authority". Generally, this would fall under the:
Authority that deals with external affairs, such as State Department, Foreign Office and Ministry of Foreign Affairs, etc.

Side Note
In Japan, an apostille is issued by the Ministry of Foreign Affairs.
How is Apostille done in Japan?
The Japanese Ministry of Foreign Affairs provides an excellent Application Procedure Guide (including flow chart):
Information on certification services at the Ministry of Foreign Affairs (new window)
I highly recommend you beef up on this guide before you start the process. Summarized, the process is largely determined by the:
Type of document:

Private document
Official document
The Japanese Ministry of Foreign Affairs does NOT require official documents issued by public agencies (i.e., public documents) first be notarized;

however

, you should verify this notarization requirement with the destination agency evaluating your documents.

Legal jurisdiction of residency
Depending on legal jurisdiction, private documents may be notarized and apostilled all at the same time at a Notary Public office (i.e., one-stop service).
Once you have navigated the apostille process above, send us your documents for the required Certified Japanese Translation.
Here's an example of Japanese legalized translation -- An actual apostilled document we translated.


Japanese Apostilled Translation
(The top half of this private document is also notarized i.e., one-stop service)
My Country is Not a Signatory to the Hague Apostille Convention – Now What?
Obtain specific instructions from the country AND organization asking you to get public documents apostilled or authenticated. Authenticating options generally may include employing the services of a:

Notary Public
Commissioner for Oaths
Clearing Up Common Misconceptions:
An apostille -guarantees- the authenticity of a translation.
An Apostille does NOT endorse the content of documents -- It verifies the authenticity of the signature and ensures that the document is recognized in all signatory states to the Hague Apostille Convention of 1961.
And, last but not least, with the understanding that participating countries all have their own process on who and how a public document can be apostilled or authenticated, I would like to leave you with our oft repeated mantra:
Save yourself time, money and energy by getting your facts directly from the official authority (i.e. organizational level) that will be evaluating your translated documents
Need more information on certified translation? Click here for Certified Japanese Translation FAQs


About the Author
Ivan Vandermerwe is the CEO of SAECULII YK, the owner of Japan based Certified Translation Tokyo Visit SAECULII for the latest professional case studies, articles and news on Japanese Translation Services
Copyright (C) SAECULII YK. All rights reserved. Reproduction of this article is permitted with inclusion of the "About the Author" reference as is (including text links, japan-translators.saeculii.com/english/services/japanese-certified-translations.cfm), and this copyright information. Articles may not be altered without written permission from SAECULII YK.