Who knew that a conference on world peace could be so fraught with danger!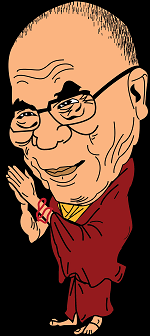 The Dalai Lama's speech on peace at Brown University was being transcribed for those in the audience having problems with his heavy English accent. However, when concluding 'If you feel these points are not much relevant - not much interest - then forget', the transcription that flashed on the closed caption video screens was 'then f--- it'!
Read the about the incident here
A comment by one DavidWhy sums it up perfectly:
I don't think he would mind the mix up. From what I have seen of him in interviews and speeches he seems to be a pretty cheerful, playful man. I bet he saw the funny side.
Now about that language transcriber…


About the Author
Ivan Vandermerwe is the CEO of SAECULII YK, owner of Tokyo based Translation Services Japanese English Visit SAECULII for the latest professional articles and news on Japanese Translation Services
Copyright (C) SAECULII YK. All rights reserved. Reproduction of this article is permitted with inclusion of the "About the Author" reference as is (including text links, japan-translators.saeculii.com/english/services/japanese-translation-services.cfm), and this copyright information. Articles may not be altered without written permission from SAECULII YK.