Quality, like satisfaction, is a subjective term which can be relatively hard to pin down.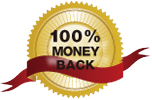 Get a Comprehensive Guarantee
However, the nature of the product - Japanese translation - is comprised of measurable components making objective evaluation not only possible, but even easy!
What are the measurable components of quality of translation product? Listed below, these are the subject of separate translation guides:


The knowledge contained in these free translation guides, which have been developed by experienced translation industry professionals, will guarantee you get a quality product.
And, finally, you also can ensure you get quality Japanese translations by selecting professional translation agencies that provide a Complete Satisfaction or 100% Money Back Guarantee. Agencies that provide a comprehensive guarantee are essentially saying:
This is how confident we are of the quality of our product

In addition to your own due diligence i.e. reading the translation guides and doing research, that's about as good as it gets!
Click for the Japanese Translation Guide: Translation Service Satisfaction


About the Author
Ivan Vandermerwe is the CEO of SAECULII YK, a Certified Japanese Translator in Tokyo, Japan. Visit SAECULII for the latest professional case studies, articles and news on Japanese Translation Services
Copyright (C) SAECULII YK. All rights reserved. Reproduction of this article is permitted with inclusion of the "About the Author" reference as is (including text links, japan-translators.saeculii.com/), and this copyright information. Articles may not be altered without written permission from SAECULII YK.