Ask the Malaysian Ministry of Defense.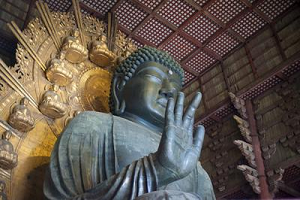 Daibutsu
Early in 2012 the Ministry of Defense, which handles a multi-billion dollar budget, tricked out its new Malay language website with Google's online machine translation, Google Translate. This embarrassing gaff was taken down; although, not before going viral, world-wide!
Of course, the issue runs much deeper than the embarrassment. How is that machine translation (MT) -- a famously immature technology, still -- was even considered a credible alternative to professional human translation in the first place? I mean, it's not like the Malaysian Ministry of Defense is operating on a shoe string budget, right!
And, that's exactly why this story makes for sensational news. However, this is by no means an isolated case. Here's another example right in our own backyard, Japan.
The Daily Yomiuri, one of Japan's largest newspapers, reported in June 2012 the Nara City Tourist Association deployed a new website with, you guessed it, machine translation. Now, before we get into the nitty-gritty of how the Japanese deer feed the people (yes, you read that right!), let's put this into perspective. Nara is a world-class tourist destination with 35 million tourists annually, including 420,000 foreign tourists. (2009 figures according to JETRO statistics.)
Obviously, we're talking major tourist dollars flowing into the local economy here. And, the city balked at the 1.5 million yen (about USD20,000 at the time) cost for each of the 4 additional language interfaces of the new website instead opting for an all-inclusive 350,000 yen (about USD5,000) machine translation solution! The math behind the numbers is pretty straightforward.
The average tourist spend hundreds, if not thousands, of dollars in one city destination, so even if a minute fraction of visitors got turned off by the (virtual) store front that is the Nara City Tourist Association website, that's a loss you can't simply brush under the rug! It really does beg the question: What on earth were these folks thinking?
Now, about those deer that feed people...I wonder what Mr Osaraki, as the famous Daibutsu was rendered in machine translation, would think?
If you believe you have the best translation blooper ever, then share it! Let our readers put it to the vote to find out if you really have the best translation error of all time! Simply contact us with the details, and we'll post your blooper on our translation &DISCUSS blog.


About the Author
Ivan Vandermerwe is the CEO of SAECULII YK, owner of the Japan, Tokyo based Japanese Translation Company Visit SAECULII for the latest case studies, articles and news on Professional Translation Service
Copyright (C) SAECULII YK. All rights reserved. Reproduction of this article is permitted with inclusion of the "About the Author" reference as is (including text links, japan-translators.saeculii.com/english/info/contact.cfm), and this copyright information. Articles may not be altered without written permission from SAECULII YK.