Hiroshima has become synonymous with the first ever theater deployment of nuclear weapons and the horrors of nuclear war.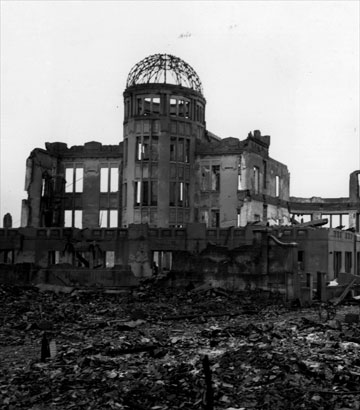 What most folks don't realize, though, is that the decision to field "Little Boy", as that weapon was called, was, well, lost in translation!

That's right -- A translation blooper! There may never have been, nor will there probably ever be, another mistranslation that changes the world as much.
All it took is one word - mokusatsu. Here is the dictionary definition of mokusatsu:
v. take no notice of; treat (anything) with silent contempt; ignore [by keeping silence]; remain in a wise and masterly inactivity.

Let's back up here a moment and put this into context. The victorious allied leaders (Truman, Churchill, Stalin, and Chiang Kai-Shek) in July 1945 at Potsdam called on Japan to unconditionally surrender. The hope was to avoid unnecessary causalities and the complete destruction of the Japanese homeland. (Truman had already received en route to Potsdam a message that the weapon had tested "husky".)
After initially refusing to comment on the allies' demand as no official decision had been reached, Japanese Prime Minister Kantaro Suzuki told reporters that he was withholding comment - mokusatsu.
This was an unfortunate choice of words in reaching for the politician's fallback response of "no comment." The translation "not worthy of comment" (see definition above) was promptly picked up by media agencies the world over. Angered, American officials felt a stern response would be appropriate. Little Boy did its job, Hiroshima was flattened, and the rest is, as they say, history.
Few, if any, would disagree that this truly is the "world's most tragic translation," as dubbed by the Quinto Lingo magazine (January 1968).
But, what about the implications of this mistranslation, though? Would Japan be the model of democracy it is today, bearing in mind a surrender absent the threat of total nuclear annihilation would have left Japan in a slightly stronger bargaining position at the end of the war? Would Japan be the steadfast US ally, and the U.S.-Japan alliance the bulwark of regional stability, it is today? Did the awesome power of the A-bomb demonstrated at Hiroshima provide the impetus for other nations to develop nuclear weapons?
Think this translation blooper has had the most dramatic impact on history? Register your vote!
Here's how it works. Simply leave a comment, or click your favourite social media widget below, to register your vote. The translation blooper with the combined highest response will be declared to have the most dramatic impact on history.


About the Author
Ivan Vandermerwe is the CEO of SAECULII YK, owner of the Tokyo based Japanese Translation Company Visit SAECULII for the latest professional case studies, articles and news on Japanese Translation Services
Copyright (C) SAECULII YK. All rights reserved. Reproduction of this article is permitted with inclusion of the "About the Author" reference as is (including text links, japan-translators.saeculii.com/english/info/contact.cfm), and this copyright information. Articles may not be altered without written permission from SAECULII YK.