In the translation industry, every so often one comes across those "What on earth were these folks thinking!" moments.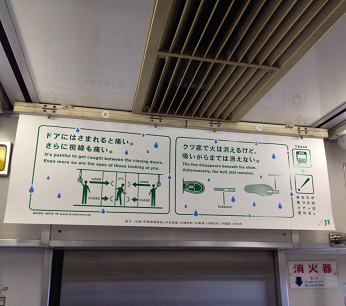 Butts & Fire (click to enlarge)
This commercial by Japan Tobacco Inc (JT) is running on public transportation lines (photo taken on the OME train line 2015-06-15) in Tokyo, which means it's running all over Japan.
Here's the thing: Most professional Japanese translation companies would have charged their minimum fee of USD50~100 given the small volume (31 words, 4 sentences) of translation work involved. Heck, I'm even willing to bet that JT employees could have simply reached out to their native English-speaking colleagues or even friends for a free once over before going to print! Instead, they're running a multi-million dollar campaign on Japan's public transportation system sans a basic English language check...
Let's put this into perspective. In 2009 Japan Tobacco Inc ranked at number 312 on the global Fortune 500 list making it one of the richest companies not just in Japan, but the whole world. And, all we're talking about is a couple of bucks for a thorough Japanese-to-English translation job!
Now, I'm sure JT will claim in their defense it's the advertising agency (Yes, but you're still responsible for your own published materials), or this is intentional waisei eigo (a form of Japlish which Japanese folks, perversely enough, tend to take an intense amount of pride in), or, or, or…Really, guys? JT is a world class company


About the Author
Ivan Vandermerwe is the CEO of SAECULII YK, owner of the Tokyo based Translation Company Japan Visit SAECULII for the latest professional case studies, articles and news on Japanese Translation Service
Copyright (C) SAECULII YK. All rights reserved. Reproduction of this article is permitted with inclusion of the "About the Author" reference as is (including text links, japan-translators.saeculii.com/english/info/contact.cfm), and this copyright information. Articles may not be altered without written permission from SAECULII YK.